Welcome to Women's Wedding Network!
We are the premier network for wedding industry business owners and professionals in the Northern Virginia (NOVA) and D.C. metro areas.
Join us for another fun, educational networking event, where you'll leave well-fed, well-connected and well-energized!
---
Our next networking event is Wednesday, December 12, 2018.
Join us for Networking With a Twist!

We'll be at the Laurel Hill Golf Course Clubhouse for some holiday fun!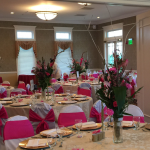 This month, we bring you Networking With a Twist. You'll get to spend quality time with new and familiar faces, plus:
Take part in some fun, business-boosting activities!
Bring your favorite thing to give away as a door prize!
Wear your favorite ugly sweater. If you win our Ugly Sweater Contest, you'll receive some lovely jewelry, courtesy of Brides & Weddings!
Take plenty of business cards with you! And don't forget – follow us on Facebook and visit www.womensweddingnetwork.com.
What to Do
Buy your tickets now, before they run out! Seating is limited!
Please let us know if you have any dietary considerations. If you have questions, please email events@bridesandweddings.com.
Be included! Follow us on Facebook and #womensweddingnetwork on a public Instagram profile. 
We look forward to getting you more connected!