By Helena Tavares Kennedy
Looking for a dramatic venue without all the drama? Hylton Performing Arts Center located in Manassas is the place for you!
Hylton Performing Arts Center is primarily a performing arts center, of course, but for brides looking for something different, Hylton is worth a look. If you are planning a large wedding, the Gregory Family Theater can hold up to 250 people and even leaves some extra room left for a dance floor. Looking for awesome theatrical lighting and sound too? Because it is a theater, they can pin spot the tables and light the dance floor with patterns and colors to match the wedding party. Yes, you read that correctly – your lighting can match your wedding party!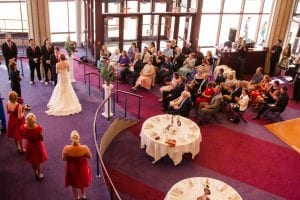 If you prefer a beautiful two-story window wall and you pick a wedding date when Hylton doesn't have any performances in either theater, then you are in luck as you can also host your wedding in the Didlake Grand Foyer for a dramatic and unique space.
"The advantage we give the bride as a theatrical venue is flexibility – as theater people we love big dreamers," said Susan Landess, Hylton's Sales Manager. "We have yet to have someone fly in on a zip line but we could do it if someone wants to pay for it!"
Landess isn't joking about their flexibility either. She notes that they had one bride who created geometric sculptures out of painted straws that they hung from the ceiling. "They looked very strange sitting in my office but beautiful under the lights," said Landess.
Another creative wedding held at the Hylton featured super heroes. "There were life size cut outs all around the room and the bridal party each had a piece of super hero gear – Captain America's shield, Thor's hammer etc.," said Landess. "That was quite a fun wedding!"
For more intimate weddings, the Lovey Hammel Lounge, named in honor of a local businesswoman by her parents, can hold up to 50 people.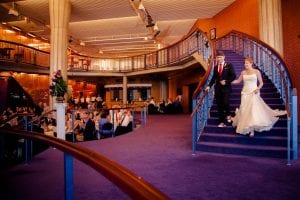 Hylton hosts only a few weddings a year right now but they hope that will change soon as they are adding on to the building and will have two new large rooms available for gatherings. Individual attention to customization and detail is a big bonus. "I work directly with the wedding clients and am happy to help them think through the process," said Landess.
A nice perk that many other venues don't allow is that brides can bring in their own caterer and alcohol is permitted. The one thing not allowed? Balloons. Because the Hylton Center is on the Science and Technology Campus of George Mason University in Manassas and it is a balloon-free campus for ecological reasons, they aren't allowed to have any balloons inside the venue.
Helena Tavares Kennedy (hkennedy@princewilliamliving.com), a longtime Prince William County resident, is a freelance writer and communications consultant at www.htkmarketingservices.com and www.livinggreendaybyday.com.