By Jane Fullerton Lemons
For couples looking to add a special flair to their wedding festivities, The Conche in Leesburg will add a sumptuous layer of chocolate to any event.
Couples can hold events at the region's premier chocolate-themed restaurant, or catering services are available, said General Manager Samet Yuksekgonul.
"We put a lot of love and passion into our offerings, and we don't cut any corners," he said. "We use the highest quality ingredients and don't pinch pennies when it comes to creating something memorable and meaningful."
The restaurant — which is located at 1605 Village Market Blvd S.E., in the Village at Leesburg — can seat 68 guests and hold a standing reception for up to 150 guests. In addition, the outdoor patio seats 18 guests.
All of those spaces can be used for wedding ceremonies or receptions, rehearsal dinners, bridal showers, or any kind of festive gathering, Yuksekgonul said. A lovely fountain in the plaza offers an ideal location for unique photos along with several charming spots in the restaurant.
Chef Santosh Tiptur opened the boutique venue in 2017 after successfully running CoCo Sala in Washington for several years. His vision is to deliver an exceptional experience by sharing "our passion for making life's every moment and every occasion memorable by indulging in chocolate."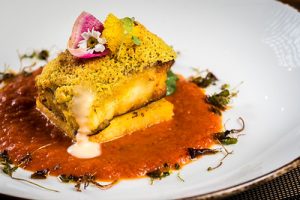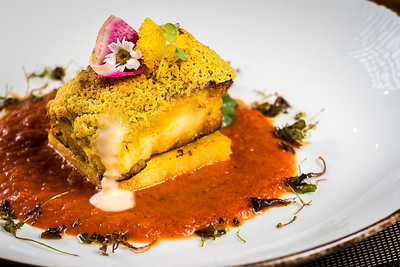 Tiptur and his team create a wide variety of sweet and savory dishes that showcase chocolate in all its forms. Yes, there are artisan handmade bonbons and truffles plus indulgent chocolate desserts. But there also are cocoa-rubbed New York strip steaks, cocoa-crusted sea scallops, and macaroni and cheese with chocolate-covered applewood smoked bacon.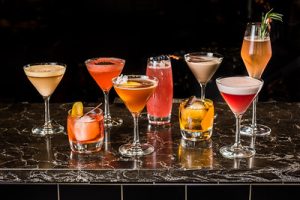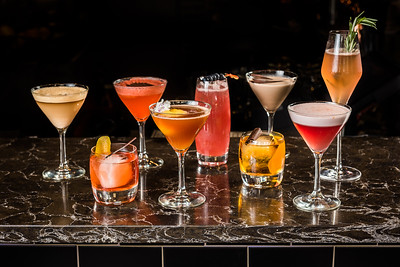 And then there's the extensive drink menu, with and without alcohol. The Conche old fashioned, for instance, takes the classic cocktail and adds Aztec chocolate bitters.
The restaurant includes a 300-square-foot chocolate lab where guests can watch the pastry and confectionary teams in action. They also offer chocolate making classes, cocktail making classes, chocolate and wine pairings, and chocolate and liquor pairings.
"Each dish that comes out of the kitchen is a piece of art, and not only does it look very appealing, it also tastes fantastic," said Yuksekgonul.
Yuksekgonul, who is also the restaurant's mixologist, got married recently, so he understands what couples need as they plan for their big day. His biggest tip: "Let others do the worrying for you."
With that in mind, Yuksekgonul said, the staff at The Conche will take care of the food, whether the event is held at the restaurant or catered at another venue.
"I think that the chocolate theme goes well with weddings," he said. "Couples look to wow their guests with the venue, with the food and drinks, and with the party favors that they choose on their special day — and we deliver on our promise to wow their guests."
That's something famed Peanuts cartoonist Charles M. Schulz understood, as he explained it this way: "All you need is love. But a little chocolate now and then doesn't hurt."