By Helena Tavares Kennedy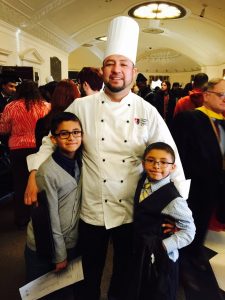 At the Holiday Inn Washington-Dulles International Airport, new Executive Chef Shannon Delgado is bringing cuisine to a whole new level, especially for brides and grooms seeking a unique culinary experience for their special day, a rehearsal dinner, or celebration.
Chef Delgado's culinary career began at a five-star hotel in Cabo San Lucas, Mexico and he completed his training at The Art Institute in Washington, D.C. Prior to his new role in Dulles, he worked at multiple Hen Quarter locations in the Washington, D. C. area with world-renowned Master Chef Fred Raynaud, one of only forty master chefs in the United States.
"In February of this year, I was excited to take on the Executive Chef Position at O'Malley's Pub Sterling and the Holiday Inn Dulles," said Delgado. "My family is so important to me, and this opportunity allows me to spend more time with my sons Nicolas and Diego. Family also drives my passion, and cooking with my grandmother was always at the center of our family gatherings."
Diverse culinary style a gem
One of the most special things about Chef Delgado is his culinary style which combines elements from his native Peru, with other cuisines. "I believe in only using the freshest ingredients with a farm-to-table mentality to create my dishes," said Delgado. "I continue to develop and master the gift for creating sauces that infuse flavors from my global travels, including Asia, Netherlands, Latin America, Canada and more."
If you are looking for a spectacular menu and gastric experience for your wedding, rehearsal dinner or event, look for Chef Delgado's signature items like tenderloin crostini with bacon jam.
"He makes the savory jam from scratch with tomato, bacon and onions and then tops the tenderloin crostini with it and brides and grooms and guests go crazy for it," said Michelle Pulliam, Social Catering Sales Manager at Holiday Inn Washington-Dulles International Airport. "He also makes a yucca arancini (basically yucca made like mashed potatoes) fried with panko bread crumbs like a risotto ball and topped with a feta mousse. This was inspired by the jungles of Peru."
Chef Delgado adds his flair to a favorite menu item, like the recent addition of a fried tempura shrimp sushi roll with sriracha mayo to O'Malley's menu. Guests looking for a modern, unique culinary experience are sure to enjoy Chef Delgado's culinary skill.
Helena Tavares Kennedy (hkennedy@princewilliamliving.com) is a freelance writer and communications consultant at htkmarketingservices.com.