By Marianne Weaver
Sponsored by Helga's Caterers
Helga Evans, mother of seven children, always loved cooking, and not just for her family. She started out cooking for her husband's Department of Ophthalmology at Georgetown University, which evolved into a home-based catering business.
Meanwhile, her son Michael, who earned a B.S.B.A. degree in business administration from Georgetown University, was preparing to launch his own career.
"I was doing an apprenticeship at Raymond Haldeman in Philadelphia," said Michael. "When I came home, she was already planting the seeds."
In 1981, the two opened Helga's Restaurant and Caterers in McLean, Va., where they served many leading politicians and business leaders until 1990 when Helga retired.
But that's not where the story ends.
The restaurant was sold, but Michael continued to build the catering business, which caters all types of events, ranging from corporate breakfasts, lunches, bat/bar mitzvahs and picnics to gala events. Their specialty, however, is weddings.
"Our unique personalized approach has helped thousands of couples enjoy their special wedding day, flawlessly and stress free while providing wonderful memories for years to come," said Michael Evans. "The beauty of catering is that each event is uniquely different with its own character, always keeping things interesting and fun. Our attention to detail sets us apart from the rest."
The family-owned, full-service caterer has served the DMV for more than 35 years. Channel9-WUSA TV named them among Washington's Top Five Caterers; they were awarded WeddingWire's Couples' Choice Awards multiple years and were also awarded TheKnot's Best of Weddings for many years and inducted into TheKnot's Hall of Fame.
The Details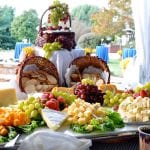 The company has 15 full-time employees and calls on a pool of 75 professional cooks, waiters and bartenders for events ranging from 20 guests to thousands.
Leesburg resident Alexandra Werner was working at a wedding venue in Middleburg, Va., when she met Evans.
"Not only is their food delicious, but the service is exquisite!" she said. "The staff is always prompt, professional, and they never miss a beat! I've now happily hired them as my personal wedding caterer in October."
Unlike some caterers who only provide food and, maybe, servers, Evans said he is proud that his business can lessen the load for couples by managing an assortment of vendors.
"Being a full-service caterer, Helga's prides itself on providing the convenience of one-stop shopping for our couples," he said. "Besides handling the food, staff, bar and equipment, Helga's can also assist in coordinating day-of event planners, flowers and musical entertainment."
Helga's caters in over 50 different venues in the Washington Metropolitan area ranging from private mansions, historical venues, barns, and more. Some of their favorite venues include Stone Tower Winery in Leesburg for its captivating vineyard setting, The Briar Patch B&B in Middleburg for its intimacy and beautiful landscaped grounds, and Strong Mansion in Dickerson, Md., with stunning views of Sugarloaf Mountain. In Downtown D.C., St. Sophia's Greek Orthodox Cathedral is a hidden gem directly across from the National Cathedral.
Michael said Helga's stands apart from the competition by offering personalized service and attention from the moment the couple sets up a consultation.
"It starts with discussing where the reception will be held and what type of food service they are interested in (i.e. formal sit-down, family-style, buffets, or stations)," he said. "The location is a key element because the size will dictate how many guests can be invited. It could also have an impact on the type of food service that can be offered."
Joyce Migliorini, from Darnestown, Md., learned firsthand the importance of that initial meeting. She hired Helga's to cater her two daughters' very different weddings.
"Both were large affairs–over 200–and held in our back yard," said Migliorini. "The first, in 2013, was a more of a casual affair as my now son-in-law is from North Carolina and wanted Southern BBQ and my daughter, being from Maryland, wanted Maryland crab cakes. The second wedding, in 2017, was a little more formal and the menu included salmon, different types of pasta and prime rib."
The Food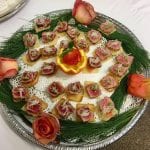 In the early days, Evans said menus focused on Continental cuisine, emphasizing German, Hungarian, French and Italian fare. Over the years, though, Helga's has expanded to offer a broader international menu including Asian, Latin, African, Hawaiian, regional American cuisine and more. If a couple has any requests, he said they will do their best to accommodate, even scaling a treasured family recipe to feed all of the guests. Menu options and prices are featured on the website (helgascatering.com).
"Our most popular dishes include our succulent beef tenderloin roasted to perfection, paired with horseradish sauce, and our whole poached Norwegian salmon garnished with lemon scales, served with cucumber dill sauce," he said. "My personal favorite is our Latin-based Chicken Tomatillos: tender chicken braised with onions, garlic, tomatillos, brown sugar and cilantro."
As a full-service caterer, Helga's also provides desserts … but not just "any" desserts. Evans said their pastry chef is a true artist who can create almost any flavor and design the couple can imagine. Recently, he said, couples have opted for a small wedding cake to share but offer guests an array of dessert choices.
"Desserts are becoming more and more popular with fun and interesting twists," he said. "Some of our traditional offerings include miniature French pastries of fruit tarts, napoleons, eclairs, and classic treats such as flan and cappuccino mousse are always popular. The classic cupcake and doughnuts are making a big comeback in the wedding scene with many couples choosing assorted signature cupcakes and doughnut walls to wind down their special night."
And Helga? She's retired and enjoying her many grandchildren and great-grandchildren.
"But she is still active and brings creative food ideas to us," he said. "She can never get totally out of it."