by Lisa Beth Miller | Photos by Audrey Mills Photography
Ok, you are planning your fabulous wedding when you find out that one of your cherished friends that you selected as a bridesmaid is pregnant. What should you do?
First of all, congratulate her! Do not look at this as a fashion nightmare. This is not a difficult situation to handle!
If you have not yet selected dresses for your girls, you need to do a little pre-planning before your big shopping trip.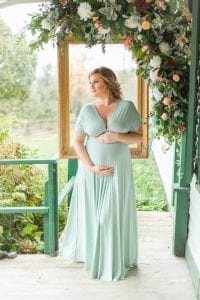 For starters, figure out how far along in her pregnancy she will be at the time of your wedding. If she has been pregnant before, maybe take a few notes on her weight and size fluctuations throughout that pregnancy. Keep in mind that this will not be an exact science; every pregnancy is different!
Next, select (with the help of your girls) the bridesmaid dress that you wish for them to wear. Pay close attention to the cut of the dress. If the dress is an A-line or empire-waisted style of dress, your expecting friend will be just beautiful. She may need to go up a few sizes, but the dress style should be ok in terms of comfort and fit.  There are a few bridesmaid dress designers that do cut maternity dresses, but most do not. Be sure to ask your bridal consultant about this, though!
If the dress is a straight, fitted cut (like a sheath or mermaid style of dress), talk to your bridesmaid who is expecting. Give her the option of selecting a looser style in the same fabric if that makes her more comfortable. Keep in mind that she may want to wear the fitted dress in a larger size, and work with a seamstress to create a look that flaunts her tummy!
The important thing is that your bridesmaids all feel good about how they look for your wedding, so be supportive of her dress decision.
If you already ordered dresses for your bridesmaids, you may need to contact your bridal shop for some creative solutions. They may be able to change the order and obtain the dress for your pregnant bridesmaid in a larger size. If it is too late to do this, ask the bridal shop to order some extra fabric. A skilled seamstress will be able to alter the dress appropriately if the material is provided! This may cost a few dollars, but it will probably be less expensive than ordering a whole new dress!