By Amy Taylor
Sponsored by Cakes by Happy Eatery
The wedding cake has been the star of the reception for years. Now it's time for cake to share the stage with some supporting actors on the dessert table. Victoria and Emily Wu of Cakes by Happy Eatery have seen wedding trends ebb and flow for years. Lately they've seen more orders for full dessert tables to accompany the traditional, decadent wedding cake.
"A bountiful dessert table is visually memorable and unforgettable," said Victoria Wu, General Manager of Cakes by Happy Eatery. "Creative looks and flavors mesmerize the guests, while reflecting the wedding couples' personality."
Here are some sweet ideas to inspire your wedding dessert table! Choose a few or have them all. The more desserts, the merrier!
Chocolate fountain with dippers – If you're having an elegant celebration, what better centerpiece for your dessert table than a lovely chocolate fountain? You can provide a full array of delicious things to dip like fruits, pound cake, cookies, marshmallows, caramels and pretzel sticks.
A variety of cookies and bars – From colorful macarons to more classic chocolate chip cookies, to peanut butter bars, your cookie table is only limited by your imagination. You can have shortbread cookies frosted with royal icing in virtually any design to match your wedding theme. Individually wrapped cookies also make amazing favors for guests to take home.
Pie bar – A seasonal pie spread is great for rustic receptions. Apple crumb, pumpkin, pecan and sweet potato pies are ideal for fall weddings. For spring and summer, you could have a luscious variety of berry pies. Cream-based and merengue pies would be great for winter weddings like chocolate cream, coconut cream or lemon merengue.
Fruits – Fruit adds pops of color and a healthy dessert option to your dessert table. You could have elaborate fruit carvings or simple fruit trays. Fruit tartes are another delicious way to serve up fresh fruit at your reception.
Smores stations – If you're having an outdoor reception, making smores around a campfire could be a great activity and a delicious dessert option for guests. Smores stations can have traditional chocolate bars, marshmallows and graham crackers or include fun variations of different candy bars.
Cupcakes and cake pops – What goes better with wedding cake than more cake? Adding cupcakes to your dessert table makes it easier to serve cake if you have a reception with many guests or with children. You can also have a wider variety of cake, frosting and filling flavors with a cupcake or cake pop table.
Pastries – You can have all varieties of pastries elegantly arranged on platters and stands to create a delicious spread for your guests. You can have chocolate eclairs, cannolis, strawberry cream puffs and more.
Candy bar – If you want to add a whimsical element to your reception, you can have a table with jars of colorful candies with fun containers for guests to fill.
If you're dreaming of a dessert table but not sure which delicious options to choose, the helpful staff at Cakes by Happy Eatery can help guide you! Contact them online or at 703-530-8898.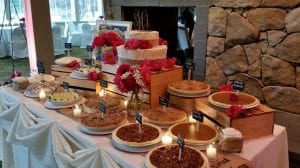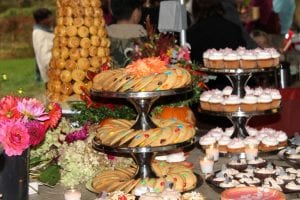 Amy Taylor is a freelance writer and editor. She earned her BLS in English from the University of Mary Washington in Fredericksburg, Virginia.