By Ashley Simpson
Sponsored by Hylton Performing Arts Center
Many would say that you're the star of your own show on your wedding day. And, the Hylton Performing Arts Center – an opera house and theater venue in Manassas – gives this idea a whole new meaning for local brides.
The Hylton Center opened in 2010, and the first wedding took place the very next year.
"We've been doing weddings almost since the beginning," said Susan Landess, Sales and Community Relations Manager of the Hylton Performing Arts Center. "The Hylton Center began reaching out to the wedding market as a way to enhance our community outreach when not being used for performances."
Hylton Center performers include the Northern Virginia Ballet, Larry Gatlin & The Gatlin Brothers Band, the Manassas Ballet Theater, the Metropolitan Jazz Orchestra, and even the National Symphony Orchestra of Ukraine. And thanks to the Hylton Performing Arts Center's outreach, your wedding can take place in a venue that frequently features such world-class acts – with theatrical lighting designed by their staff.
"The primary room couples have been using is the Gregory Family Theater, which is a black box style theatrical space," Landess said. "This means it can be configured in many different ways for both performances and events. For events, it is an exciting venue as it includes theatrical lighting that can create a very special look in the space. Our technicians spotlight each table and then use 'gobos' to create hearts or flowers or other patterns on the dance floor area. We can do the lighting in colors that match the bridal colors. Because of this lighting, the periphery of the room disappears so the need for decorations is limited. With the table spotlights, the centerpieces become the primary decoration."
Having your wedding in a theater allows you to create ambiance in a way you simply cannot with other venues.
"Working with our theatrical staff, decorators have done some really unique things," Landess said. "There have been hand-created decorations hung from the ceiling, twinkle lights that created a 'tent' effect and other fun things."
With some new upcoming structural additions to the Hylton Performing Arts Center, there will soon be more options for these special weddings.
"We are pleased to work with more couples looking to have their special event with us soon, since the new Education and Rehearsal Wing will provide more opportunities for event rentals at the same time as a performance in Merchant Hall," Landess said. "Once the expansion of the Education and Rehearsal Wing completes – and we've estimated January 2020 for rentals to begin – the Hylton Center will offer two additional rooms: the Large Rehearsal Room and the Ballard-Postma Studio. Both feature large windows looking out to the grounds. These rooms can be rented together to create a ceremony space and a separate reception space. They are located next to each other and have a separate lobby entrance and amenities for guests, such as restrooms separate from the main theater spaces."
As a wedding venue, the Center can accommodate some pretty sizable weddings, too.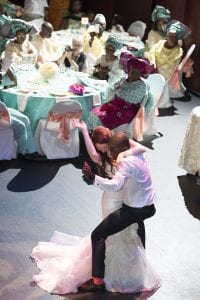 "We recommend a max of 240 for the Gregory, which leaves room for a dance floor," Landess said. "Without a dance floor it can seat 300 at round tables of 10. The Large Rehearsal Room seats 240 so with a dance floor we recommend seating of 200. The Ballard-Postma Studio is our intimate space with seating for 90 with room for a dance floor."
No matter how many guests there are, there are certainly plenty of options for feeding them.
"The Hylton Center is part of George Mason University, which maintains a large (over 100 entries) Approved Caterers List," Landess said. "And, still, if the bride wants to use someone outside this list, the caterer or restaurant must apply to Mason for a one-day license.  This is an online application at no cost that would include the presentation of their health inspection report and various licenses."
For information on pricing, booking, and more, contact Susan Landess, Sales and Community Relations Manager, at slandess@gmu.edu or 703-993-9344. There is also additional information and a reservation sheet on the rentals page of the official website, hyltoncenter.org/.