By Dominique McIndoe
When it comes to weddings, love, family and friends, and exquisite cuisine are essential for celebration. Entertainment is also a secret ingredient for a memorable and exciting day. According to statistics published in St. Louis Bride & Groom Magazine, 81% of surveyed guests said the thing they remember most about a wedding is the entertainment, and 72% of all surveyed former-brides said they would have spent more time prioritizing their reception entertainment. The MC, DJ and/or music playlist can make or break an entire wedding reception, so it's always important to research thoroughly and pick the right entertainment fit for your nuptials.
Firedog Entertainment is a veteran-owned and operated company in Northern Virginia that delivers memorable experiences for brides, grooms and their loved ones. In addition to providing couple-inspired music playlists, Firedog Entertainment specializes in MCing, lighting, DJing, photo booths, setup logistics and even video production.
"Our mission is simple—to provide the highest level of customer care that we can and to make your event as stress free as possible," says Joseph Peralis, owner and CEO of Firedog Entertainment. The company came into fruition in the late 1990s, but it soon evolved into Firedog DJs in the early 2000s and finally emerged as Firedog Entertainment LLC in 2010 after services expanded from just DJing to other entertainment features. The name "firedog" came from Peralis's experiences as a firefighter during the earlier days of the company.
"The inspiration was that I enjoyed what being a firefighter meant to me and others," says Peralis. "I wanted it to be a trusted brand that meant something special in how we treat our clients… I am constantly trying to learn new things to be able to improve my services."
Firedog Entertainment focuses its scope in the Northern Virginia area, but they are also open to providing services anywhere within the DMV and Washington, D.C. metro area.
"We like to stay local, build local relationships with venues and other vendors in our area," says Peralis.
With 25 to 30 events a year, which includes everything from weddings and receptions to proms and anniversaries, Firedog Entertainment is definitely in the business of planning. Music selection is one of the most important yet challenging parts of the process.
"We will not use the same playlists every time, as folks have different backgrounds," says Peralis. "We like to customize things as well as get input from guests to make our playlists work for everyone."
One particularly memorable event for Firedog Entertainment was when they provided DJing services for the brother of a TV wedding celebrity (who shall remain nameless due to privacy reasons). Peralis recounts an instance where a couple found out during their meeting with him that he used to work for the restaurant that they were both managing. During the reception, they insisted that Peralis get in a group photo with all of the employees, which he said was a blast.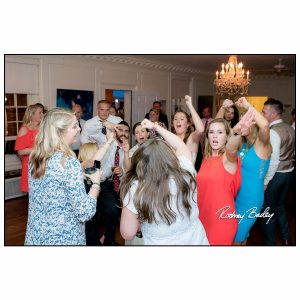 "All of our events are positive, as we work to vet our clients just like we get vetted," he says. "We always want to make sure we are a good fit."
To keep things fresh, Peralis always tries to find a way to add a little something extra to events.
"Having just gotten back from the annual DJ Expo ('yes, we have conferences') in Atlantic City and having seen some new products, I may be introducing [them] to my setup," he says. "I am currently designing a new DJ booth that is mobile [and] I'm getting a new photo booth. [I'm] always trying to minimize weight and time while still providing a great event."
The COVID-19 pandemic provided some challenges over the past few years due to state regulations, but Firedog Entertainment is geared to take on the remainder of 2022 and beyond through greater experiences and charitable endeavors.
"Please take the time and speak with your potential vendors," Peralis says as a word of advice to NOVA brides and grooms. "You will get so much more out of it and will find better matches for yourself."
If you would like to book Firedog Entertainment for your wedding or special event, fill out the contact form at FiredogEntertainment.com or email them at info@FiredogEntertainment.com.
Dominique McIndoe (mcindoe@princewilliamliving.com) is an assistant editor at Rowman & Littlefield, a lover of weddings and a longtime writer.