Sponsored by Briar Patch Bed and Breakfast Inn | By Katrina Wilson
Middleburg's Briar Patch Bed & Breakfast Inn has a peacock on site that they met in the fall, and he has maintained a colorful presence at the business.
The establishment is known for hosting weddings, parties and retreats. It is a pet friendly bed and breakfast, but the Briar Patch family were shocked when a peacock showed up in the fall of 2022.
He was eating the cat food for the outdoor cat!
Ellen Goldberg, owner of the establishment, said they named the peacock Pete.
"Years ago, our two daughters had parakeets – Pete and Polly," she said. "I loved the alliteration with the P's and gave the peacock the name Pete."
She said Pete the Peacock has favorite hangout spots on the roof of the main house and the front porch and he can stand the winter. She said during the winter he shed his feathers – Goldberg said they kept the feathers as a keepsake and visual display.
Pete has a safe space in a barn on site.
"We enjoy having him," she said. "Guests love taking photos with him."
She said since spring arrived, he's been opening his tail showing those colorful feathers – a sign he is looking for a mate.
Goldberg said no one has come to claim him, but she feels he could not have come from a far distance. She said he mostly walks and can fly short distances.
Briar Patch's Attributes
The bed & breakfast is on 47 acres of land and has 12 bedrooms in three buildings – which brides and grooms utilize to be with friends and family for a whole weekend. Briar Patch has horses on site and allows pet dogs too. The Blue Ridge Mountains can be seen from the bed and breakfast.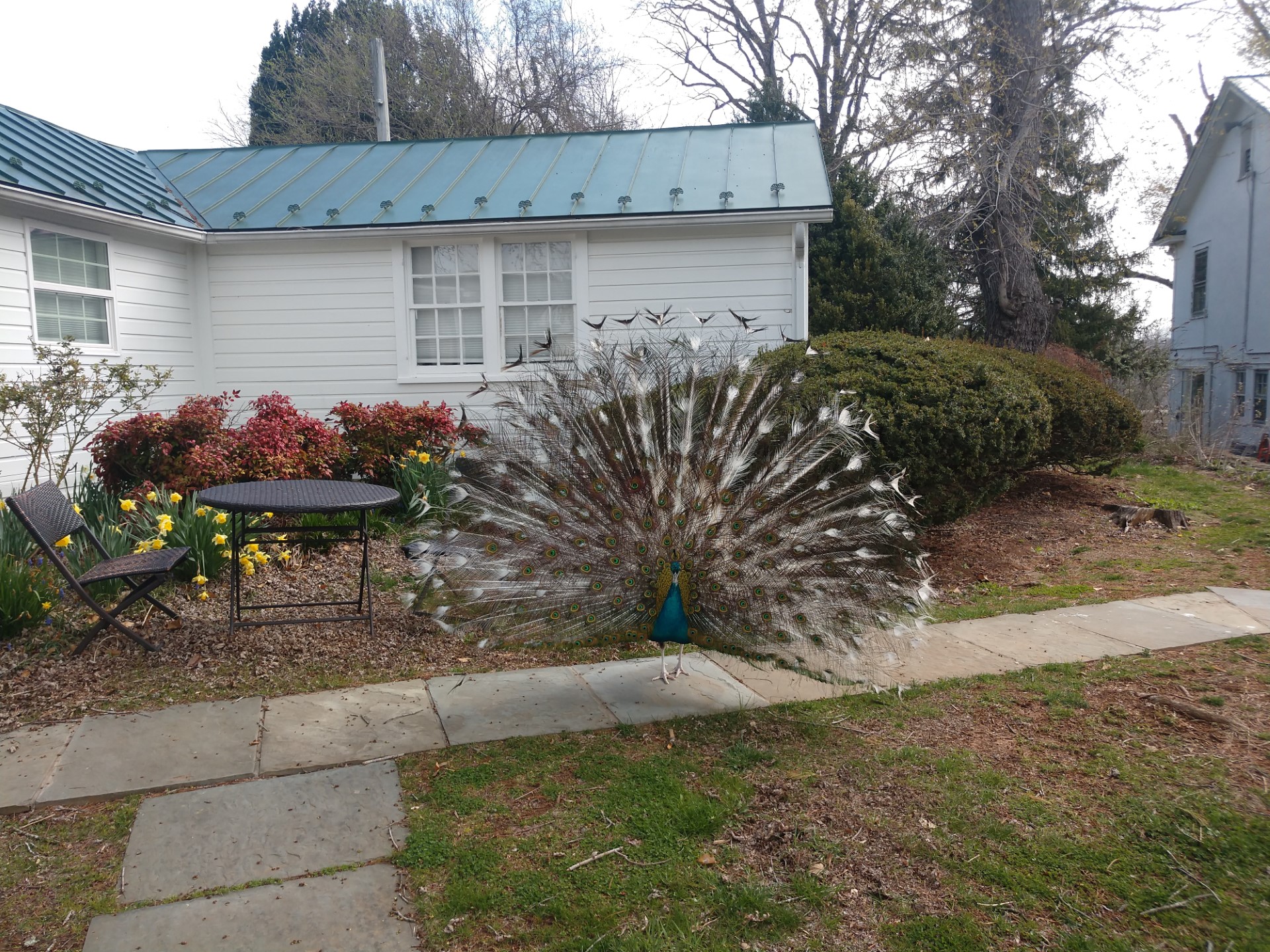 Peafowls
Pete is a peafowl. Only male peafowls are peacocks and have the colorful feathers. Female peafowls are called peahens. Peachicks are the babies. According to a PBS fact sheet, peafowls consume small creatures, plants and insects.
Katrina Wilson is a contributing writer for Brides & Weddings.