The peaceful farm is nestled on the Potomac River, with 600 acres of bluegrass meadows, woodlands, wildflowers, and manicured gardens. Just 45 miles from the D.C. metro area, it feels like stepping back into Virginia's antebellum heyday.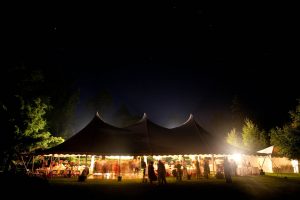 There's a historic Federal-Georgian manor house that's just right for intimate weddings. It's been beautifully preserved, and the parlor, dining and living rooms are decorated with period furniture and paintings—many of them original to the home.
Large receptions take place under a lavish tent on the south lawn, overlooking the gardens and river valley trees in the distance. Smaller outdoor events can be held in the pine forest, on the pasture, or in the garden itself.