By Amanda Baity
Floral initials are beautiful, personal wedding decorations, especially when filled with the couple's favorite plants. They are great to make for your own wedding or to give as a gift to a gardening friend who is tying the knot. Try the
couple's first initials, or just their last initial if you only have time to make one. Or go all out and spell their names if you have the time!
Wire Outline: To make your personalized floral initials you'll need to begin with a wire frame. You can make them yourself, but they can be found at many craft and garden stores. The time and trouble saved to make the small cost worth it. You'll also need moss to line your letters, plants to fill them and dirt for your plants to grow. Try to choose plants that thrive in similar types of soil so that they can all grow and flourish together.
Moss Lining: Begin by lining your letters with sheet moss. This will keep the dirt from falling out of your wire frame, and it looks beautiful.
Add Soil: Fill your letter with soil, pressing the moss against the frame to hold it in place. We used a sandy soil so the succulents we were planting could thrive.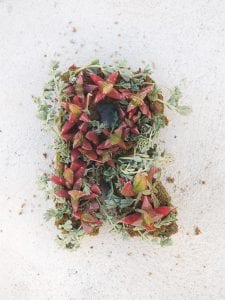 Add the First Plants: It's a good idea to begin by planting a few plants on the outside that will hang over the edge. They will help conceal any part of the frame that might stand out against the moss.
Continue Planting: Then begin filling up the middle with your main plant. It's a good idea to use plants that look beautiful together even when they aren't blooming, especially if you want to keep your floral initials around for a while.
Secure your Plants: Your plants will need time to establish their roots before the letters can be set upright. Plant between two weeks and a month before your wedding so the plants have time to establish themselves and fill in a bit without getting too crowded. If you don't have enough time, you will need to secure your plants with wire hoops so they don't fall out when you tip the letters up. Simply bend a piece of floral wire into an upside-down "u" shape and press into the soil on either side of your plant.
Final Letters: If you are making two initials, consider making them personal to each individual. Use a couple of plants that are the same in both letters, and then add a few different plants to each. Have fun mixing color, texture and plants to create the perfect personalized mementos.