By Katrina Wilson
Sponsored by SweeneyBarn
Sweeney Barn was once a barn for cows to live in to produce milk. Now it is a modern event venue in Prince William County where modern city and country meets.
The History
In the late 1930s and early 1940s, the one-story dairy barn was a home for cows. Current owners Noel and Alannah Sweeney found the barn about 2017. Prince William County owned it at the time. The county wanted someone to renovate the place and would bring economic development to the county.
The Sweeneys fell in love with the barn. They started the renovations March 2018 and finished around December 2018.
The wedding and events venue have a rustic look with the rich barn history, but a modern aura for clients to enjoy.
Andrea Van Wambeke, general manager at Sweeney Barn, oversees the communications, does the walk-throughs with clients, and reports information back to the owners.
She said, "We always tell people, if the city and the country had a baby – it would be Sweeney Barn." She adds that the barn is quite modern with full climate control, an elevator and a ballroom feel. "We're not in the countryside, but have that feel. That's what sets us apart from other wedding barn venues."
The Events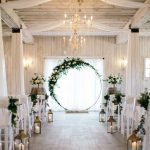 "We're excited for 2020," Van Wambeke said. "It's different than what we thought it would be. However, we still have the remainder of the year to host events and are ready for the 2021 couples."
Sweeney Barn hosts a variety of events throughout the year.
"We've done retirement parties, bar and bat mitzvahs, holiday parties and corporate events," she said.
Van Wambeke said having a team with event managers and a tour manager enhances the flow and efficiency of the venue's events. When clients want to view on the weekends, the event managers and tour manager step in.
"The importance of having that team allows us to be efficient and help the clients voice what they want and need," she said. "They love what they do and are the faces of Sweeney Barn."
While the venue offers their team, they ask couples to hire their own wedding coordinator to ensure they have a lead to keep things running smoothly.
Partners in the Community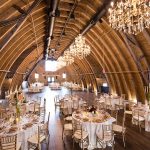 Sweeney Barn's partners are vendors from different industries such as food and beverage, photography, music, hair and makeup and lodging.
"It's really important to us to have partners in Prince William County," she said. "Vendors are recommended to those interested in using Sweeney Barn. Our vendors know our building and that is valuable to our clients because the vendors know the best spots to set up."
She also said it helps influence the relationships with small businesses.
"We try to choose as many vendors in Prince William County to support and bring economic development to the county. There is a lot of talented vendors here that are small businesses ran by families known here," said Van Wambeke.
COVID-19 did affect a portion of their year, but they are following all the governor's mandates for hosting events.
"We are focused on sanitizing and cleaning our facility in accordance with mandates," she said. "We took training courses, and now have a Global Biorisk Advisory Council Microbial Warrior certification. We have taken the Prince William Strong Business Pledge to practice sanitary guidance from our state to ensure safety for our clients' special day."
For more information on the venue and what they have to offer, check out their website at SweeneyBarn.com.
Katrina Wilson considers herself a Carolina girl because she was born and raised in South Carolina. New to the area, she and her husband are still exploring Northern Virginia. She can be reached at kwilson@princewilliamliving.com.