We love finding new gift ideas for our readers to give to their wedding party. Recently we were introduced to Whiskey Stones.
Ice is Nice, but Whiskey Rocks!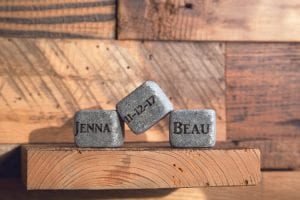 Let's face it, watered down whiskey isn't cool.  Give a personalized gift that is different and useful at the same time.
The Rock n' Cold Whiskey Stone set Includes:
-6 Engraved Whiskey Stones.  The Whiskey Stones are 100% Soapstone and measure 1″ x 1″
-1 Muslin Bag
-1 Instructions card
Wash the rocks before the first use and dry completely. Put the rocks in the Muslin bag and place in the freezer for at least 3 hours.  Put the rocks in your chosen beverage (Whiskey / Wine etc…) to chill it without watering it down. These rocks can even be heated and used to keep coffee or tea warm. They are dishwasher and food safe and never wear out. Remember, ice melts but whiskey rocks!
Check them out here:  https://www.groovyguygifts.com/products/personalized-whiskey-stones-gift 
And let's not forget the ladies! If you're looking for unique personalized gifts for bridesmaids, check out Bridesmaid Gifts Boutique. It's an online shop featuring a wide variety of gifts for the women in your wedding party.