By Rob Jinks
Finding the right photographer isn't always the easiest part of your wedding planning. Having photographed over 100+ weddings over the past six years, I can confidently say that I have been asked every question in the book. Today I want to share with you questions to ask your photographer to help you find out if they are the perfect choice to capture your day.
Questions Before You Start
#1: Find out what photo style you like best before you contact a photographer
Take a few minutes to Google photographers in your area, or use wedding repositories like Wedding Wire or The Knot to get a quick view of the different types of photo styles that exist. Some photographers edit their photos to be very warm, others very bright, and others colorful and contrasty. Some photographers shoot in a very posed manner, others in a very photojournalistic manner. Get a feel for what you like so that you don't waste your time or the
time of a photographer.
#2: Let them lead the conversation
I never mind if a client leads off with their own questions. However I find that those who are willing to let me follow my conversational flow will get the fullest view of what I do, why I do it, and what it will mean for them. Give your photographer the lead in the conversation to see how much they care about you and your story. Are they asking you good questions or are they monologuing? Are they asking questions that matter or are they trying to sell? Look for signals that show they truly care about your needs and not just getting the sale.
Specific Questions
Now let's get into specific questions I recommend asking any photographer you meet.
Question #1: What do you love most about being a wedding photographer?
The aim is getting your photographer to share what is most important to them. Learn what it will be like to interact with them on your wedding day, what kinds of images will they be looking for, and how your priorities will mesh with theirs.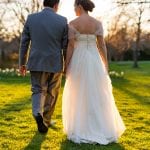 Question #2: Who will be the lead photographer at my wedding?
Some large photos studios assign a photographer to you without you meeting them and getting to know them. Make sure you know who your photographer will be, make sure you love their portfolio, and make sure you can see yourself spending one of the most impactful days of your life with that person.
Question #3: Do you edit all or some of the final images?
Some studios edit all of the images they show you, while some edit only the ones you choose. If they only edit the ones you choose, is there a limited number?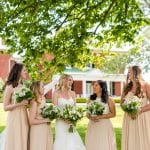 Question #4: I've never done this before and I'm nervous about being photographed. What can you do to help me get past this?
It's completely natural to feel nervous about being photographed and every photographer has a different approach to making you feel at ease. Asking this early can help put aside any nervous distraction you might have.
Question #5: What is your turnaround time?
Manage expectations by knowing ahead of time when you can expect to see your images.
Question #6: What plan is in place if you can't photograph my wedding due to an emergency?
People get sick or injured and you want to know with confidence that you will have an amazing photographer at your wedding day. This is a good reason to have a second photographer, which is another important question to bring up.
Question #7: Are you insured?
Make sure they are. Enough said.
Question #8: Can I see the contract?
It's important to make sure terms are clear to protect you and them. Make sure they have a contract, and read it! Ask your photographer questions along the way and don't let something small become a big issue later. Tackle it now while it is easy and no money is on the line.
Questions to avoid or take with a grain of salt.
While I firmly believe there are no stupid questions, there are some that need to be asked with the right expectations.
Have you shot at my venue before?
A good photographer doesn't have to have shot at your venue before. You simply need to see a variety of venues in their portfolio, variety that shows they can work in any situation.
How many photos will you give me?
Don't base your choice of a photographer on the number of images you will receive. Instead, make sure the images you will get are quality and will show the full scope of your wedding day.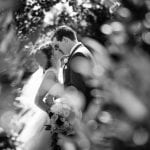 Are you a part of professional associations or do you have professional training?
As long as a photographer can show consistent, quality work over a span of years or many weddings, that is good enough for me. The path to wedding photography is different for everyone. Some take courses, others figure it out as they go. Whatever the path, the images are the biggest proof you could ever ask for.
These are just some of the big questions to ask your photographer. Don't hesitate to go deeper! In the end, be sure that you love your photographer's photos, and that you love their personality and way of interacting with you. You will be spending one of the best days of your life together, one that can have a lot of stress involved. Make sure this person is a calming force in your life and you see them as a friend.
Are there any other questions you think we should add? Visit my website or visit me on Instagram @robjinksphoto to continue the conversation!