We love finding new gift ideas to showcase for our readers. Here is another item that is unique and great wedding party gift: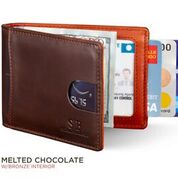 Luxury meets personality with Serman Brand wallets. Experience the perfect & affordable RFID Blocking minimalist travel wallet. Handcrafted from full grain leather – Equipped with enhanced features like: RFID Protection, Quick Draw Access, and Storage Capacity. Perfect for Groomsmans gifts and even the groom.
——————-
In 2015 Vitaliy Serman and his then 16-year-old son, Leo Serman, set out to create the ultimate minimalist travel wallet. It was sleek, beautiful, highly functional and it took the world by storm. In fact, it received almost 10,000 reviews on Amazon alone. Today, Leo, his Dad and the rest of his family (11 in all) are back with some awesome upgrades to the original. Introducing the new SermanBrands 1.0.
See at http://kck.st/2T4pzkH
Made from the finest top-grain leather, the new SermanBrands 1.0 minimalist wallet is a full feature, indispensable travel accessory. Designed to carry your cards (up to 8) and cash like a champ, its patented construction creates zero bulk in your pocket while it keeps everything secure. With features like RFID blocking technology, an easy access front pocket, smart strap and a built-in money clip, the new SermanBrands 1.0 is the perfect addition to your everyday carry essentials.
The new SermanBrands 1.0 is available in several unique color combinations and for the first time in a Special Edition stamped design … it's a must-have accessory for any trip.
https://www.sermanbrands.com/