by Lisa Beth Miller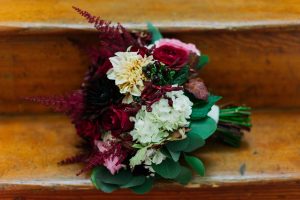 When planning your wedding, it would be difficult to avoid spending a large sum on flowers, as they are woven into many aspects of the celebration. Flowers and decor traditionally take up around 15% of the wedding budget. This, of course, is flexible, depending upon how much the couple chooses to utilize flowers!
Here are a few ideas to consider as your budget:
Bridal bouquets and toss bouquets are fairly traditional and necessary. Brides who love flowers can go all out with an extravagant bouquet, while minimalists can certainly keep it simple! Brides could even opt to use the "real bouquet" as the toss bouquet to save a few dollars. Just keep in mind that the bride's bouquet is one of the most photographed floral arrangements of the day! Don't skimp too much!
Bridesmaids' bouquets are also a must, but certainly, do not need to be as extravagant as the bridal bouquet. The girls could carry a single flower or a petite nosegay. Be strategic with color so the bouquets stand out in pictures!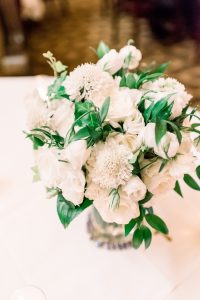 Corsages and boutonnieres should be purchased for every man at the wedding party. The parents of the bride and groom should also receive these floral tokens. The groom's boutonniere should coordinate with the bridal bouquet and should be distinct from the flowers worn by the groomsman.
The cost of the ceremony flowers will vary greatly depending upon where the wedding ceremony will take place. Some churches allow couples to decorate both the aisle and the front area of the church, others may discourage this. Regardless of how much you decorate the ceremony location, talk to the florist about moving these flowers to the reception location to save money!
Reception flowers: If flowers are the main decor at the reception, you will need a centerpiece/arrangement for each table, at a minimum. Flowers could also be added to the cake table, cocktail tables, bar, buffet tables, entrances, and restrooms. Keep costs down by specifically asking the florist what flowers are in season at the time of the wedding!
Another money-saving tip is to add unique props to the reception flowers (jars, candles, antiques, photographs) so that smaller arrangements may be utilized.
Good luck, blushing brides!