By Amy Taylor
Sponsored by Catoctin Creek Distilling Company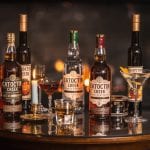 The first distillery to open in Loudoun County since prohibition, Catoctin Creek Distilling Company is celebrating their 10-year anniversary in style. They are holding celebrations throughout the entire year and you won't want to miss them!
A Year of Celebration
To kick off a year of celebration, they will hold a big anniversary party in March. Join them for an upscale southern-style cocktail party complete with signature cocktails, hors d'oeuvres and live music. Celebrations will continue throughout the year with quarterly distillery dinners, special events and branded glassware.
"Throughout the year we will be hosting many different events to celebrate our anniversary, from distillery dinners to interactive cocktail classes. These are great events for engaged couples to experience together and with their friends and family to get a feel for everything we have to offer," said Brittany Nelson, event coordinator for Catoctin Creek.

Valentine's Day Events
The perfect time for couples to check out Catoctin Creek is their romantic Valentine's Day dinner on Feb. 15. Couples will enjoy a four-course menu plus an amuse-bouche from Justin Thyme Culinary. Each course will include a chocolate element and playfully paired cocktails.
On Feb. 16, the distillery will release their four-year-old Rabble Rouser Rye Whisky and eight-year-old 1757 Virginia XO Brandy.
There are so many events happening this year, you'll want to check their website often so that you don't miss anything. Their events calendar can be found at catoctincreekdistilling.com/events.
The Perfect Intimate Wedding Venue
If you're looking to book an intimate wedding venue or a place for your rehearsal dinner, Catoctin Creek is the perfect spot.
"We have a really unique and beautiful space in Downtown Purcellville that is the perfect size for smaller events. We also like to consider ourselves friendly to engaged couples who are on a tighter budget," said Nelson.
A Friendly and Inclusive Space
The distillery is a friendly and inclusive space and welcomes all engaged couples.
"We have hosted several LGBTQ weddings and we pride ourselves on being LGBTQ friendly," Nelson said.
If you're looking for a fun theme for your wedding that works perfectly with this space, consider a prohibition-themed wedding.
"Some of my favorite weddings that we have done were prohibition-themed weddings… The space is so unique and looks amazing with the copper stills in the background and all of the barrels decorated with flowers or vines," Nelson said.
This has been their busiest year yet for booking rehearsal dinners and weddings, so if you've fallen in love with this venue for your wedding, reception or rehearsal dinner, be sure to book your date today while it's still available!
To inquire about private events, visit catoctincreekdistilling.com/private-events and fill out the contact form.