By Amy Taylor
Sponsored by Simply Desserts
Wedding cakes come in so many beautiful styles, it might be hard to choose. Simply Desserts, an award-winning bakery based in Gainesville, Virginia, brings us some wedding cake inspiration to help you choose the perfect sweet touch to your big day!
Wedding Cake Styles to Inspire You
Floral – If you can't get enough fresh flowers, you may want to have this style wedding cake. These cakes are usually tall, multi-tiered cakes with cascading flowers. If you're having a romantic or whimsical-themed wedding, this cake would fit right in.
Tall – If you're having a classic or formal wedding with many guests, a tall cake might fit the bill. These cakes are usually four to six tiers with piping and floral elements. These cakes give a grand feeling to your reception.
Naked – These semi-clad cakes with minimal frosting have gained popularity in recent years. These cakes are great for vintage or rustic weddings and are usually adorned with beautiful floral elements. The focus here is on simplicity and flavor.
Rustic – These cakes have elements of nature incorporated into the design. Think berries, vines and greenery, these cakes are perfect for rustic, garden or whimsical-themed weddings.
Classic/elegant – Perfect for traditional weddings, classic or elegant styled cakes have stood the test of time. These are typically tiered cakes frosted in white with ornate piping and sometimes incorporate satin or lace elements.
Themed – If you are having a themed wedding, your cake can be custom designed to fit in perfectly with other design elements. You can have virtually any cake you can dream up to match your theme.
Novelty – If you want to try something outside of your typical wedding cake, there are tons of options here. You could have a smaller wedding cake accompanied by a cupcake table or opt for only cupcakes. Cheesecake is another delicious option. Dessert tables are also growing in popularity. Virtually any dessert you can dream up can be a part of your dessert table. From chocolate fountains with dippers to fruit arrangements or smores stations, the only limitation is your imagination.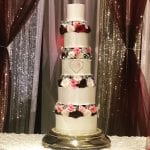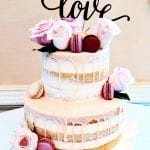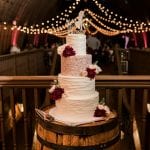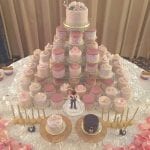 Novelty cupcakes
Flavor Trends
Once you've chosen the style of cake, now it's time for the best part — tasting! There are many different flavor combinations you can choose from.
Kimberly McDonald, Owner of Simply Desserts, says, "Almond is still the classic flavor. I have added to my tasting plate some unusual flavors to get the couple to step 'outside the box.' Lavender earl grey with a honey swiss buttercream and green tea with matcha cream cheese have become popular choices, along with lemon champagne with raspberry filling."
If you're looking for a cake to wow your guests, Simply Desserts can help you create the cake of your dreams. If you're still not entirely sure what direction to go with for your cake, they can give you their expert guidance. Reach out to them today at 703-754-2257 or visit their website.